In 1992…
The 'World Wide Web' is introduced to the public.
Compact Discs outsell cassette tapes for the first time.
Brian Mulrooney is Prime Minister of Canada.
The 25th summer Olympic Games are held in Barcelona.
Connor McDavid would not be born for another 5 years.
The 'North American Free Trade Agreement' is signed.
'Silence of the Lambs' wins the Oscar for Best Picture.
The Toronto Blue Jays win the World Series
And….
Summit Valve and Controls is founded.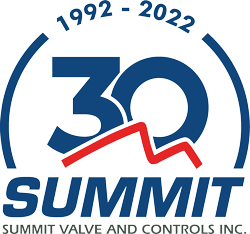 Back in 1992, Summit made it all happen from a home garage, with a single product line, two employees, a few wrenches, and some packing tape 🙂
It's been said that "great people create great companies", we wholeheartedly believe this. Today, we operate 5 locations across Western Canada, and our team represents 25+ valve, automation, and instrumentation product lines. So much has changed over the years… however, we are still family-owned and operated, and proud to be Canadian.
In 1992, we believed in 'delighting the customer', a value we continue to embrace in 2022. Today, February 14th, marks 30 YEARS of appreciating our clients, partners, colleagues, friends, and family. It's because of you that we're celebrating our 'pearl' anniversary. Thank you for being the reasons for our success 😍
Here for you, since 1992.
Sincerely,
The Summit Team